Summer, sun, saltwater – here's how to make sure your hair and nails don't lose their shine
05. June 2023
from Melanie Tiek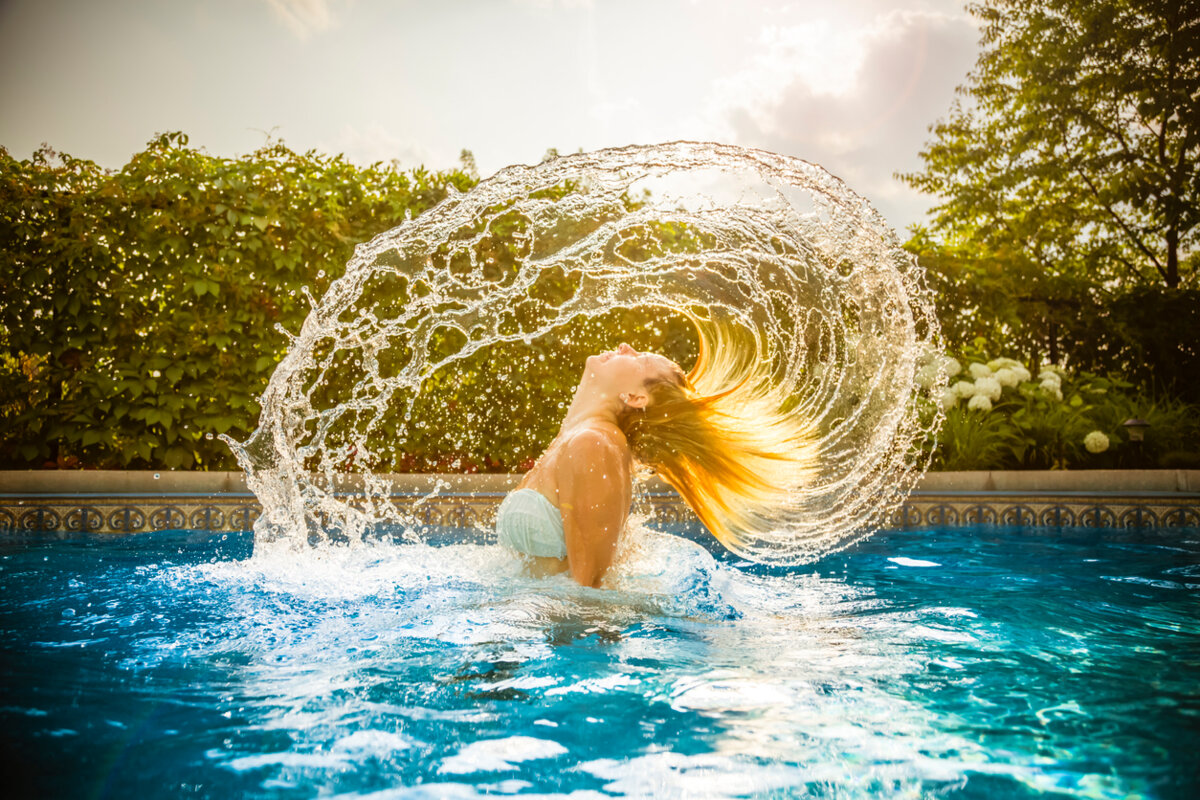 30 degrees in the shade? Whether you're a sun worshipper or prefer to stick to the shade, temperatures like these mean that sooner or later, you simply have to cool off in the pool or – for those of us who've caught the travel bug – maybe even the sea. But what seems like heaven to us can quickly become quite the opposite for our hair and nails. Here are a couple of tips to avoid this – a summer gift from us to you.
Water makes up about 15% of each of every single hair and five percent of each of our fingernails and toenails. In summer, this moisture level quickly decreases, leading to dryness.
Sunbathing and taking a dip in salty seawater or chlorinated pools strips away natural oils, causing our hair and nails to lose moisture and shine. Many care products and styling solutions also contain ingredients like sulphates that can actually damage our hair and scalp as they expose hair cuticles while also drying the hair out.
But hair and nails don't just react to external influences: if we want them to grow well and look naturally beautiful, we need to provide our bodies with the right vital substances on a regular basis. That's why strong, healthy, shiny hair and nails aren't just gifts from mother nature – there's a lot you can do to give her a helping hand.
Heaven for hair and nails
Shower "without your hair"
People who sweat more shower more. Yet regular bathing dries us out, especially our hair and scalp. What would you say to only washing your hair twice or three times a week? Give it a try: go for a week without washing your hair every time you shower, and try to avoid blow-drying. Your hair and scalp will thank you for it!
Natural oils
Treat your hair and nails to an extra helping of oil before you swim or as part of your nightly care routine. This is where natural oils like argan, wheatgerm, and the wonderfully fragrant coconut oil come into their own. Massage the oils into the ends of your hair. While you're at it, you could also take the opportunity to show your nails some love by massaging the oil into your fingernails and toenails too.
Protection
Wear a sunhat or cap to protect your hair and scalp when you're sunbathing for longer periods or in particularly strong sunlight. After you've been for a dip in the pool or sea, it helps to wash off in clean (tap) water. It's also a good idea to rinse your hair in clean water before you swim, as wet hair absorbs less salt and chlorine than dry hair.
Harness the power of vital substance for hair and nails
Protein-rich foods like fish, eggs, nuts and pulses help your hair and nails grow stronger. Maintaining a healthy, balanced diet that's rich in vegetables makes sure that you get essential B vitamins, biotin, folic acid and zinc. Plus, when used in combination, collagen and hyaluronic acid make for a bona fide beauty elixir. Starting a routine that includes taking the appropriate supplements can help to ensure that hair and nails get these necessary vital substances in sufficient quantities.
With these shining examples of haircare tips in mind, we'll leave you to enjoy the most beautiful time of the year. Repeat after us: "Ready when you are, summer!" Have a wonderful time!